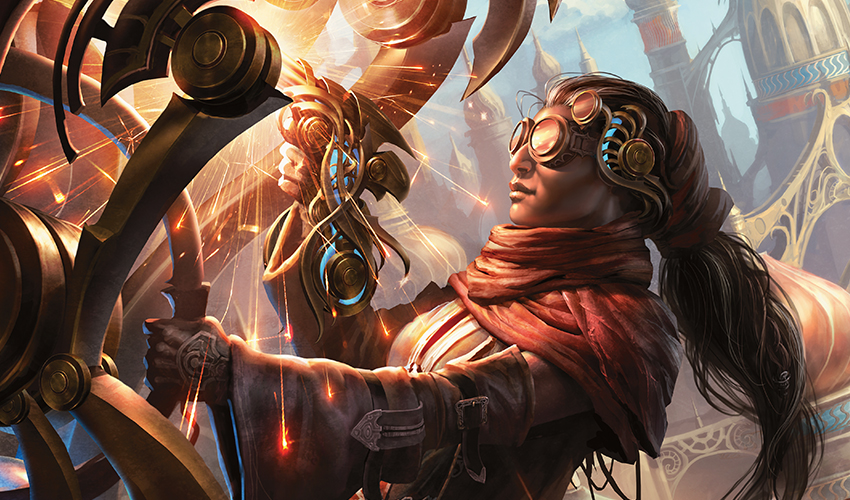 This week the
MPDC League
shifted to
Standard Silverblack Tribal
, which is a variation of the Tribal format in which at least one third of the total cards in the deck must contain the same creature subtype. Additionally, the format does not allow for any Sideboards.
The winner this week was Luc3k, who piloted a Rakdos colored deck with the Artificers tribe, making use of this prevalent theme from the Kaladesh block. Let's take a look at his list:
Unlike some recent innovations, this deck is simply about dealing damage as quickly as possible. It's constructed around six aggressive and/or mana efficient creatures:
Aether Chaser
,
Sweatworks Brawler
,
Weldfast Engineer
,
Aether Poisoner
, and
Inventor's Apprentice
. Not only do these beaters quickly ramp up the pressure, but each can immediately be equipped with
Inventor's Goggles
as soon as they enter the battlefield, making them that much more of a threat. But the biggest threats of the list actually come from
Sky Skiff
and
Renegade Freighter
, which are among the best Vehicles available in the format, especially since they are so cheap to Crew. Augmenting these threats are
Lightning Strike
and
Unlicensed Disintegration
, the latter of which can not only deal with any opposing threat but also levels direct damage to your opponent. Finally, the deck includes a full playset of
Ramunap Ruins
as well, which has become a staple in any Red-based deck for its dual role as a mana source early and as a direct damage dealer late to deal the final blow to your opponent.
Congratulations are certainly in order for Luc3k, who piloted this deck to a 5-0 finish, earning the 1st place trophy for last week. There is no doubt that the Artificers tribe is among the most powerful available right now, so it will be interesting to see if another tribe can fight through to victory. Hope you've enjoy this brief deck-tech, and I will see you next time.