I am still hard at work on my set review for Magic Origins, and despite some of the criticism I have heard from a vocal minority,
I continue to be fairly impressed with the set so far
, especially with the overall power level and complexity of the Commons, which seems higher than in more recent sets.
Last time
, I took a look at the Renown mechanic and looked at what makes for a solid Renown creature. Today, I want to look at the return of one of the more powerful counters to see print in recent time -
Mana Leak
!
...Okay, so they didn't actually reprint Mana Leak. What we got instead is
Calculated Dismissal
. Its base effect is identical to Mana Leak, but it costs an additional colorless mana to cast. Now right away, this is a pretty big drawback. One of the reasons that Mana Leak was so good was that it gave the Blue deck access to a 2 mana counter again that worked against both creature and non-creature spells, something that hasn't been seen since
Counterspell
was judged too good to see print. After all, for the same mana cost as Calculated Dismissal, you can play
Cancel
, which will counter any spell without any restrictions. Of course, there's more text on the parchment: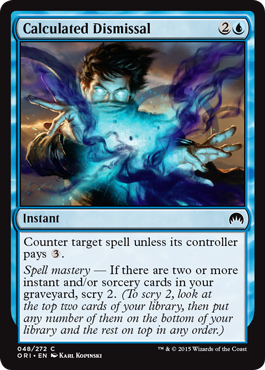 If you've played at least two Instants or Sorceries prior to casting Calculated Dismissal, you get to Scry 2. And note that this triggers regardless of whether or not your opponent actually pays the 3 colorless mana. Generally speaking, Scry 2 is viewed as equivalent to Draw 1 in overall tempo, so this is a pretty big upside. Additionally, the fact that Calculated Dismissal doesn't require access to double Blue is also a pretty significant advantage over Cancel. The fact that it isn't a hard counter means it's not as good in a true Control build. But in a more tempo-based Blue deck, particularly paired with Red or Black, this could end up being a very powerful effect. As such, I predict this will see plenty of play in the upcoming metagame.
What do you think about Calculated Dismissal? Is it as good as I think, or am I overstating it? Let me know in the comments below.